As Catholics, we have a incredibly rich heritage of Art: music, painting, sculpting, architecture, literature - all of these enrich our Tradition amazingly. Yet in never really occurred to me how many different expressions of the same subject there are until recently. And the other day, this was really cemented for me when I was reading about a painting, that after years and years of uncertainty, was confirmed to be Leonardo da Vinci's "Salvator Mundi". Because we have those in music too. So I thought that I would put together in a post some art, some music, and some writing all focused on Jesu, Salvator Mundi.
Jesu, Salvator Mundi
I am going to put these first, not because I think they are more important, but because I think it is edifying to listen to the music, read the words, and see the images as a unit, rather than as individual examples.
From the Dialogues of St. Catherine (of Sienna)
"So it happened that Catherine, being arrived at the age of six, went one day with her brother Stephen, who was a little older than herself, to the house of their sister Bonaventura, who was married to one Niccol˜, as has been mentioned above, in order to carry something or give some message from their mother Lapa. Their mother's errand accomplished, while they were on the way back from their sister's house to their own and were passing along a certain valley, called by the people Valle Piatta, the holy child, lifting her eyes, saw on the opposite side above the Church of the Preaching Friars a most beautiful room, adorned with regal magnificence, in which was seated, on an imperial throne, Jesus Christ, the

Savior of the world

, clothed in pontifical vestments, and wearing on His head a papal tiara; with Him were the princes of the Apostles, Peter and Paul, and the holy evangelist John. Astounded at such a sight, Catherine stood still, and with fixed and immovable look, gazed, full of love, on her Savior, who, appearing in so marvelous a manner, in order sweetly to gain her love to Himself, fixed on her the eyes of His Majesty, and, with a tender smile, lifted over her His right hand, and, making the sign of the Holy Cross in the manner of a bishop, left with her the gift of His eternal benediction. The grace of this gift was so efficacious, that Catherine, beside herself, and transformed into Him upon whom she gazed with such love, forgetting not only the road she was on, but also herself, although naturally a timid child, stood still for a space with lifted and immovable eyes in the public road, where men and beasts were continually passing, and would certainly have continued to stand there as long as the vision lasted, had she not been violently diverted by others. But while the Lord was working these marvels, the child Stephen, leaving her standing still, continued his way down hill, thinking that she was following, but, seeing her immovable in the distance and paying no heed to his calls, he returned and pulled her with his hands, saying: 'What are you doing here? why do you not come?' Then Catherine, as if waking from a heavy sleep, lowered her eyes and said: 'Oh, if you had seen what I see, you would not distract me from so sweet a vision!' and lifted her eyes again on high; but the vision had entirely disappeared, according to the will of Him who had granted it, and she, not being able to endure this without pain, began with tears to reproach herself for having turned her eyes to earth." Such was the "call" of St. Catherine of Siena, and, to a mind intent on mystical significance, the appearance of Christ, in the semblance of His Vicar, may fitly appear to symbolize the great mission of her after-life to the Holy See.
da Vinci's 'Salvator Mundi'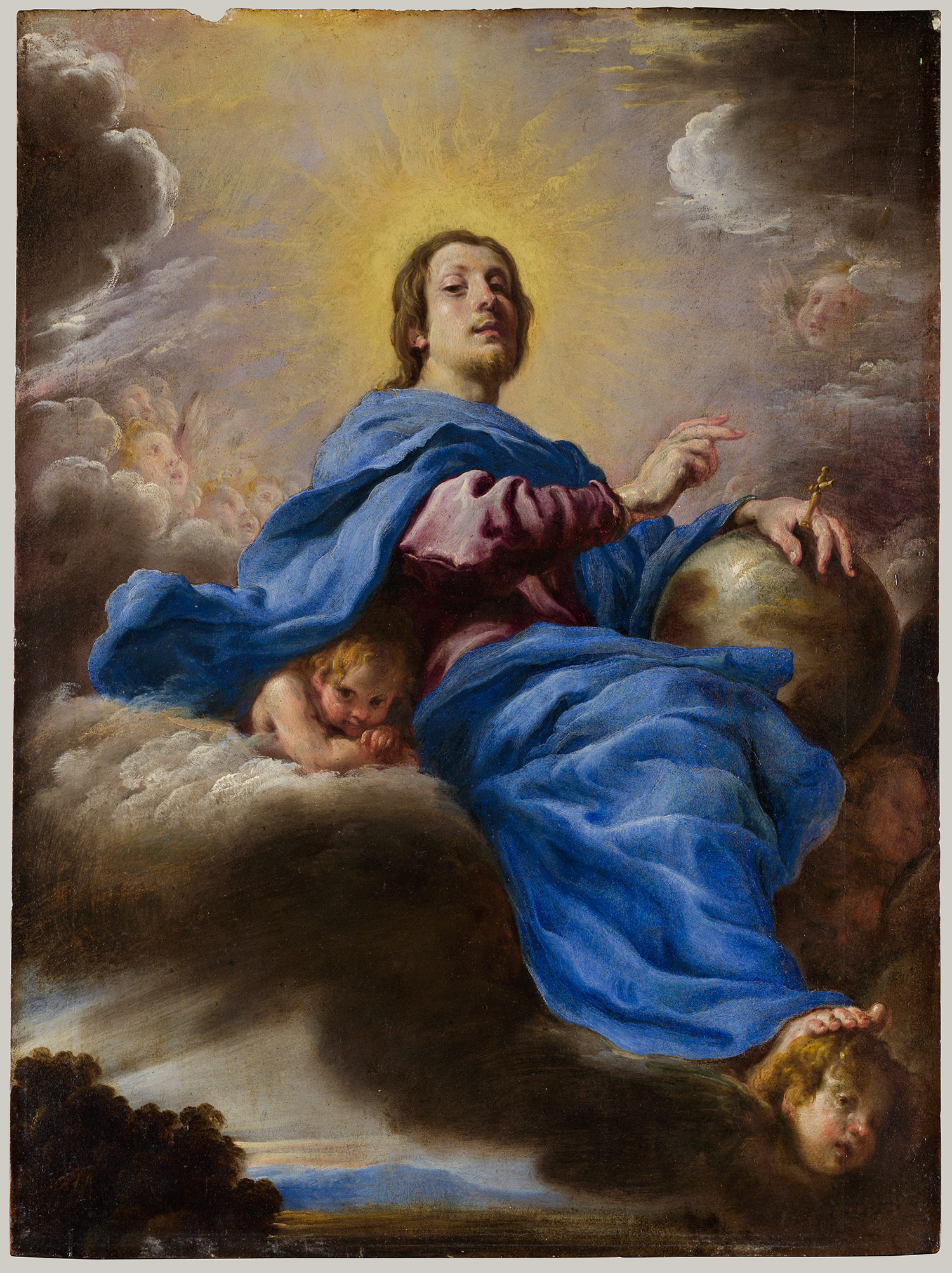 Not really sure about this one
"Jesus, Saviour of the world, come to the assistance of Your children, who, through Your blood, You have saved."